Archive for February, 2010
Sunday, February 21st, 2010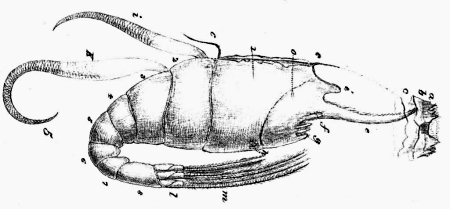 Prior to the publication of the book that would make him a household name, Charles Darwin spent 8 years studying barnacles. He first became interested in barnacles during his voyage aboard the HMS Beagle when he discovered a tiny parasite that had burrowed into a conch shell. He would later discover that this parasite was a barnacle, even though it lacked certain features found in most other barnacles. Darwin's curiosity about barnacles would eventually evolve into an obsession and to the publication of four volumes on the subject that would establish his reputation as a meticulous researcher and naturalist. Darwin's barnacle research made him the world's foremost expert on the critters and earned him the respect of scientists who might otherwise have ignored his later work.
Interestingly, Darwin's barnacle studies influenced the development of his ideas concerning evolution, as Darwin himself noted in his autobiography:
The Cirripedes form a highly varying and difficult group of species to class; and my work was of considerable use to me, when I had to discuss in the 'Origin of Species' the principles of a natural classification.
At the time of Darwin's research, barnacles were quite poorly understood. Many naturalists classified them as mollusks. By carefully dissecting hundreds of specimens, Darwin was able to demonstrate that, although their shells make them look like mollusks, barnacles are in fact related to lobsters, crabs, and shrimp. In their larval stage, they look like tiny shrimp and swim around at the surface of the ocean. When a barnacle is ready to settle down, it uses its antennae to pull itself along and find an acceptable location. Upon finding a suitable site, the animal uses a strong adhesive to attach itself head-first to the surface. From that point on, it lives inside its shell, using its feathery legs to filter food out of the surrounding water.
For centuries, barnacles were an enigma. Their relationship to other animals was clouded by their derived traits, features that made them unlike any other members of the animal kingdom. However, careful study of their anatomy led Darwin to correctly conclude that they are crustaceans. Darwin saw through the façade of the barnacle's shell to the core, or essence, of the creature in order to identify its true nature.
This is a valuable lesson that can be applied elsewhere.
The video below recently showed up as a response to one of my YouTube videos. The audio is from a November, 2002 episode of Science Friday. It features Kenneth Miller, Lawrence Krauss, and Stephen Meyer discussing the dust up over science standards in Ohio in 2002.
To put this in context, this was when the Intelligent Design Movement was still actively promoting the teaching of ID in public school classrooms.
Around the time this discussion took place, John Calvert (leader of the Kansas-based Intelligent Design Network) was gallivanting around Ohio arguing that it was legal for science teachers to teach the "Design Hypothesis" in public school science classrooms. In fact, Calvert went so far as to argue that it was illegal to prohibit science teachers from teaching ID.
Remarkably, these arguments were being made in the absence of an accepted ID curriculum. This is demonstrated by John Calvert's March, 2001 legal opinion:
Develop Curriculum for Showing the Evidence relating to the Design Hypotheses.
Although I am not aware of any accepted curriculum for use in discussing the evidence of design, efforts are being made to develop constitutionally neutral curriculum which would be consistent with the Policy Statement. I expect curriculum may be available within the near future. I will provide copies as soon as it becomes available.
I encourage school districts, school teachers and school administrators who have a desire to develop curriculum, to do so. I believe IDnet can put them in touch with scientists and educators who could provide assistance.
Such a curriculum never materialized. That's not surprising, of course, since there never has been a positive scientific case for ID. Eventually, ID promoters in Ohio abandoned the teaching of ID and shifted their focus to the "critical analysis of evolution."
Then came Kitzmiller v. Dover and the collapse of intelligent design. Ever since the Kitzmiller ruling declared that teaching ID is unconstitutional, the leaders of the ID movement have abandoned legal arguments like those made by Calvert in Ohio. They are now simply asking that teachers be given the "academic freedom" to teach the "full range of scientific views" regarding evolution.
But has the essence of their argument really changed?
Of course not.
The material that ID promoters want taught in science classrooms today is exactly the same as it was in Ohio in 2002. Regardless of the current façade, careful dissection will reveal the real core of the ID movement: the religiously-motivated desire to engender unreasonable doubts concerning evolutionary theory in the minds of young people. The currently popular catch-phrases like "academic freedom" and "critical analysis" are merely shells that have been erected to hide the ID movement's true nature.
Darwin's work on barnacles teaches us a valuable lesson: Sometimes you have to look beneath outer appearances in order to discover the true nature of something.
I never cease to be amazed by how much the man got right.
You are currently browsing the archives for February, 2010.